Confronted with this need, the Pere Tarrés Foundation initiated a project in the fall of 2016 to assess the reality of the situation and establish mechanisms for responding to it in the short, medium and long term.
With the collaboration of a team of dentists from Asistencia Dental Europea (ADE), dental check-ups were conducted to obtain an initial diagnostic:
139 child participants from 3 socio-educational centres in neighbourhoods of Barcelona where family incomes are lower than the citywide average.
66% of the children seen had conditions which require treatment (cavities, root canals and other conditions).
The children with cavities had an average of 3.8 teeth affected.
100% of the children who didn't brush their teeth had cavities.
65.22% of the children had never been seen by a dentist before.
€ 60,000 would be the approximate cost of treatment at the 23 centres in the Pere Tarrés Foundation Network of Socio-Educational Centres.
There are children who don't eat or restrict their eating to avoid pain.
Children with conditions in their baby teeth cannot receive treatment, only painkillers.
Children with serious conditions in their baby teeth can have difficulty learning how to speak, pronounce words correctly or acquire proper eating habits.
Problems in baby teeth, such as cavities, may affect the permanent teeth in process of formation if they get worse, leading to long-term consequences in the child's dental health.
Dental health project of the Pere Tarrés Foundation. The Foundation's tasks
1 - Expand diagnostic and treatment procedures throughout the 23 socio-educational centres adhered to the Pere Tarrés Foundation.
2 - Cover the cost of dental treatments for the children who need them most urgently.
3 - Conduct educational workshops in dental cleaning habits and nutrition at the socio-educational centres, geared to both children and their families.
4 - Intercede with the administration to provoke a higher level of commitment to childhood dental care.
5 - Pursue a fund-raising campaign addressed to individuals and companies to receive donations and be able to treat all children with dental problems:
With 50€ you can help one child get a dental cavity filled.
With 100€ you can give 50 children snack for a week.
With 300€ you can help 3 children receive academic support for a month.
With 500€ you can help one child participate in a socio-educational centre for a whole school year.
With 1.100€ you can give 14 children access to dental treatment (fillings and extractions).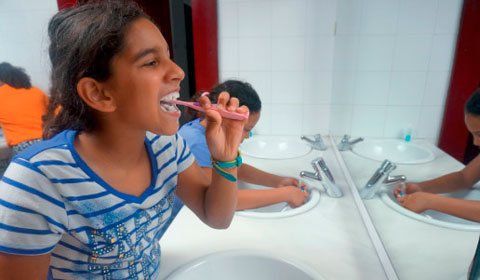 Report prepared by the Pere Tarrés Foundation on the dental health needs of children in vulnerable situations
Click on the image to access the report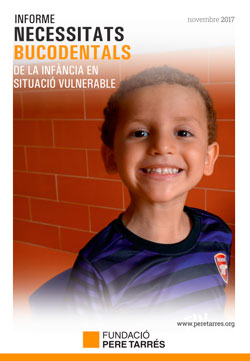 This project is made possible with the support of:

We work to help children live like kids and grow as people.