The Picasso Museum is undoubtedly one of the busiest tourist spots in Barcelona and one of the most important museums of the city. If you decide to visit the city and you don't know what to see in Barcelona, ​​the Picasso Museum is a place not to be missed.
The Picasso Museum is located in one of the most beautiful and important streets of Barcelona, ​​Montcada Street. Considered the heart of the Gothic and Renaissance architecture of the city, Montcada Street contains a series of palaces that will transport you to the medieval Barcelona of the thirteenth century, and will show how the elite once lived. Five of these palaces have been enabled to be part of the Picasso Museum in Barcelona, the Palau Aguilar, Palau Baró de Castellet, Palau Meca, Casa Mauri and Palau Finestres. The museum is located in Palau Aguilar, one of the most important Catalan Civil Gothic, because of its structure and decorations. So , if you visit the Picasso Museum in Barcelona, ​​you can not miss the opportunity to stroll around this beautiful street and enjoy a part of the history of the city.
The artist, Pablo Picasso, shook a strong bond with the city of Barcelona during his teen years. Because of this, he wanted to build a museum in this city and make his mark to be remembered forever. So with the help of his friend Jaume Sabartès, the Picasso Museum opened in 1963. The museum contains most of the early works of the painter, since the begining, and displays them in chronological order. This way you can observe firsthand the personal and artistic growth of Pablo Picasso. Moreover, as one of the most visited tourist attractions, the museum has brief explanations of the life and work of the famous painter, essential for all those who don't know it. So if you do not know the history of Pablo Picasso, visit the museum can become a very rewarding experience. You'll love discovering his progress and watch his unique works.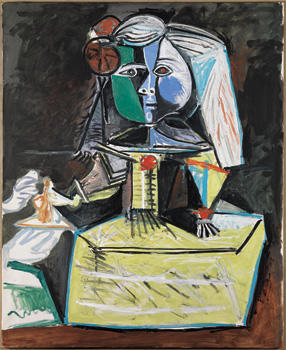 Photo credit: Cea. / Foter.com / CC BY  
Among the large repertoire of paintings by Picasso, the Picasso Museum in Barcelona has more than 3,500 works of the painter, among which Ciencia y Caridad, El diván, Arlequín, La minotauromaquia, Hombre sentado, and his particular series Las Meninas. The Picasso Museum in Barcelona is one of the most important museums of the city and as such, your visit is a must if you decide to travel to Barcelona. Discover the Picasso Museum in Barcelona and enjoy the works of one of the most famous artists in the world!