Barcelona is not exactly a small city, but does not reach the levels that reach large cities in the world. And, despite this, some of its streets have managed to gain a place in the hearts and minds of hundreds of thousands of people who visit it each year and even locals have their own special appreciation. Today we wanted to highlight 5 of these particular streets, known to all the inhabitants of the city and undoubtedly famous beyond the limits of Catalonia and even Spain. Want to know a little better? The 5 most famous streets in Barcelona
Las Ramblas. If there is an emblematic street of Barcelona, it is surely this. Las Ramblas Avenue runs from Plaza de Catalunya to the sea, and it is always crowded with pedestrians. Here you will find shops, bars, restaurants, flower stalls, ice cream, souvenirs... And although it is less traveled by tourists, from Plaza Catalunya to the Mountain the Avenue continues, although it is considered a separate section.

Paseo de Gracia. One of the most famous avenues in Catalonia and also the second most expensive street of Spain. That's Paseo de Gracia, an avenue that once was an orchard road linking the village of Gracia to Barcelona.If you have not been in Paseo de Gracia, you have not been to Barcelona!

Avenida Diagonal. Avenida Diagonal. This is one of the biggest avenues in Barcelona, with an extension of approximately 11 kilometers. It was part of the major renovation project in the city that invented Ildefons Cerda, and is one of the center streets of traffic and urbanism of Barcelona. As you can imagine, with 11 km long you'll find everything!

Portal del Ángel. This avenue, which holds the title of the street with the most expensive commercial rents in Spain, owes its name to a Franciscan monastery that was destroyed during the War of Independence. Today it is filled with shops, bars and craft stalls, and is also common to find a number of street artists who dance or perform different shows in the street.

(Autor: Francesc_2000 / photo on flickr)


Tallers. This famous street still retains much of the charm that gave its fame: many alternative punk style shops, vintage and gothic congregate around old record stores, musical instruments and bars and pubs. Tallers is one of the alternative streets of Barcelona, and it is essential to live it both day and night: live its night side in l'Ovella Negra, Tra-Llers o Llibertària. You'll love it!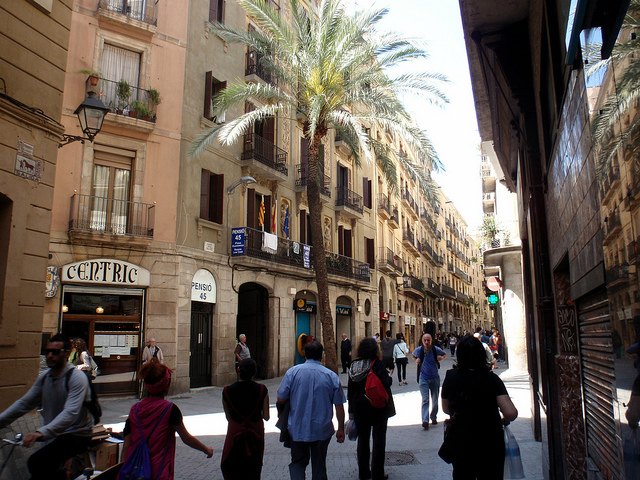 (Autor: Oh-Barcelona.com / Photo on flickr)
Undoubtedly, if you come on holidays to Barcelona you have to spend some time to know them all: for its uniqueness, its commercial importance or simply for curiosity, sure that none of them leave you indifferent. It will be a perfect choice to enjoy an afternoon of shopping, sightseeing and drinks without leaving the same street.