There is no better way to know a city than discover it running. This is what the skier and mountain runner Kilian Jornet, born in Sabadell, says. If you think like him and you want to discover the charms of Barcelona without slacken off here you have the best running urban routes.
Modernism Route:
Ideal for beginner runners, since the route passes through plain terrain. Its main attraction is its incomparable cultural value because running lovers can see the most important modernist buildings in the city: La Pedrera, Casa Batllo, La Sagrada Familia and Palau de la Música, among others.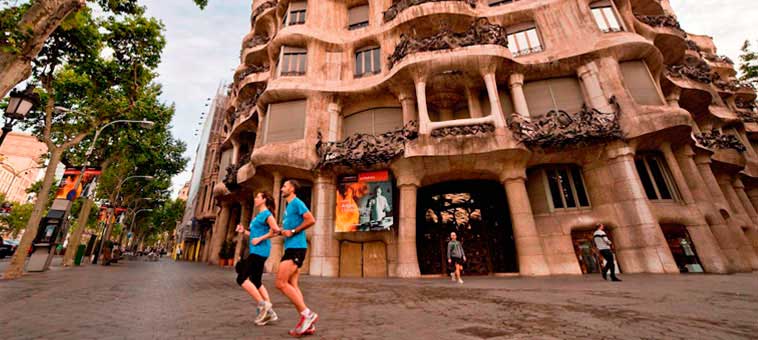 Montjuïc, the Olympic mountain:
A better physical shape demands this route, which runs through the facilities that were created for the 1992 Olympics. The tour has constant ups and downs that is worth doing to enjoy the excellent views of Barcelona. The more experienced riders can practice running while discovering the mythical Olympic Stadium, Palau Sant Jordi, Montjuic Castle, the impressive fountains and Plaza España.
Diagonal Avenue:
As the name suggests, this great Avenida  crosses the city in diagonal. Runners can opt for the East Zone, which pass by the Agbar Tower and they can see the last great urban transformation of Barcelona, with new neighborhoods like Diagonal Mar or Poble Nou. This route also leads to the Forum, with wide spaces ideal to practice running. The route that runs through the West Area of Diagonal Avenue, comprising the University area, Palau de Pedralbes and Parc de Cervantes, has great sidewalks and few traffic lights, making it perfect for running. In addition, football fans have the opportunity to see to the FC.Barcelona Camp Nou stadium
From Ciutadella to the see:
Sea lovers that choose this running route will run below the legendary Arc de Triomf, will know the paths of Parc de la Ciutadella and will cross the popular seaside neighborhood of Barceloneta. They may also see the W Hotel, one of the last landmarks of the city.
Barcelona from the sea:
What better way to enjoy the fresh air of the Mediterranean, the sun and the sea, than practicing running? Barcelona offers a unique route for that, from the tower of Vila Olímpica and the marina to the Forum. For the most adventurous, there is always the possibility of a dip at the end of the tour. Now that you know the best routes to practice running, you just have to choose the perfect footwear to enjoy running the wonders of Barcelona. But if you want to enjoy the city in a calm way, do not miss out our thematic routes in Barcelona
Foto credit: runbcn.com