San José Market, better known as La Boqueria, was opened in 1840 and since then has been remodeling and improving the property to leave it as we know it today. Undoubtedly, the most important change that occurred was in 1914, when the works from the metal cover, that much personality and particularity give to the market, were finished. However, the story tells its origins are several years before its official inauguration. Although the real beginning of this popular market is uncertain, the historical archives of La Boqueria tell us that in the thirteenth century was a street market, outdoors, consisting of few stands where meat was sold, in Las Ramblas, near the area where it stands now. However, it became more and more important and the market grew, so, its popularity became a major focus of controversy to be a part of Las Ramblas which broke with its aesthetics. Then, the relocation of the market began and did not stop until the nineteenth century, when the building we know today was opened. Mercat de la Boqueria is one of the oldest in the world still in operation and is part of the 10 internationally recognized best markets. If you decide to travel to Barcelona, La Boqueria is a must you can not miss if you want to taste the best products in the city and enjoy a unique experience.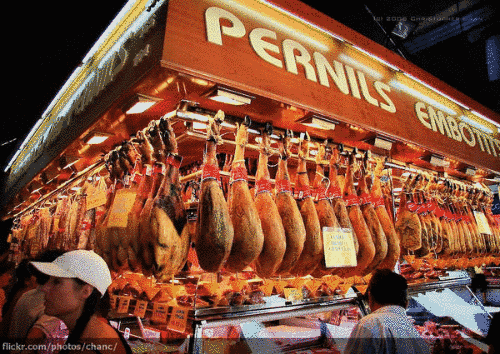 Photo credit: Christopher Chan / Foter / CC BY-NC-ND
Despite starting as a small market, today it has more than 250 stands where we can find all kinds of food products, from fruit harvested by the vendors themselves to meat, fish and even pastries. In addition, in La Boqueria you can also find some bars where you can have a snack or even eat while enjoying the movement and daily life of one of the oldest and most picturesque markets. The variety and quality of its products has classified this market as the gastronomic temple of Barcelona, ​​a place to buy and taste all foods you would not find in a common supermarket. Undoubtedly, La Boqueria, besides being one of the most important markets across the country, has become one of the best attractions in Barcelona. Millions of tourists come every year to visit this popular food center, admire the beauty of its ornamentation and live the history of a market full of color, beauty and humility. Visit  La Boqueria and discover Barcelona's gastronomic temple!  
Photo credit portada : xavi talleda / Foter / CC BY-NC-SA