The Gothic Quarter is the historic city center and one of the oldest neighborhoods. Even today, most Gothic works are preserved, built during medieval Barcelona. If you decide to discover the city and do not know what to see in Barcelona, follow the route of the Gothic and discover each of its corners.
We begin our route through the Gothic in Plaça del Pi, where we find a beautiful Gothic church, the church of Santa Maria del Pi. Go inside the church and discover the spectacular and colorful stained glass rose window.
From the Plaça del Pi, take "calle de la Palla" to the end. There you will find the Plaça Nova, where you will see the most famous cathedral in the old city, the Cathedral of Santa Eulalia, better known as the Cathedral of Barcelona. If you do not know what to see in Barcelona, do not miss this cathedral.
On the left of the Cathedral, in Santa Llucia Street, we can see the House of L' Ardiaca. This house keeps one of the most beautiful Gothic Quarter corner, its inner courtyard. At the end of this street, there are still remains of the Roman wall. We recommend you access the first floor and observe the gargoyles of the cathedral.
To continue the route through the Gothic Quarter, you must go to Bisbe Street, at the end of Santa Llucia. This is one of the most beautiful streets of the Gothic Quarter of Barcelona because it has the original gothic façade of Palau de la Generalitat. You will also discover a bridge in the middle of the street, linking the Palau de la Generalitat with Casa dels Canonges .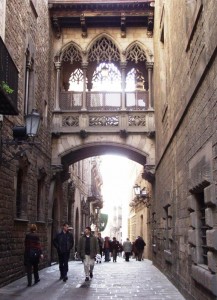 Photo credit: Foter.com / CC BY-SA
By Pietat Street, you will reach Paradis Street, where you will find the impressive columns of what was once the Temple of Augustus in Roman times. Sit in front of them and contemplate the beautiful Corinthian capitals.
If you take again Pietat Street and turn right, you will reach another emblematic square of the Gothic Quarter, Plaça del Rei (King square), center of power in medieval times. Observe the Gothic facade of the Palau Reial Major (Royal Palace), located on the left .
We will finish the route by the Gothic in another of the most impressive squares in the city. From Bisbe Street, take Montjuïc del Bisbe Street up to the Plaça de Sant Felip Neri. This is a must if you do not know what to see in Barcelona. In this square we will find the Baroque church of Sant Felip Neri, where worst bombing took place during the Civil War. In fact, in the front you can see shrapnel.
Follow the path through the Gothic Quarter of Barcelona and discover the most charming corners of the city!
Photo credit: marcp_dmoz / Foter.com / CC BY-NC-SA