Santa Llúcia Fair is the oldest Christmas products fair in Barcelona. The first year it was held was in 1786 and it is said that at first there were three fair days: in the Immaculate and Santa Llúcia day in the Cathedral Square, and in St. Thomas in Plaça del Pi, Sant Josep Oriol and Born. Figures, houses and other structures and elements of the Nativity scene, like bridges, fountains, mills, wells, barns are sold.
Currently, the fair starts in late November or early December, with over 280 stalls organized by sectors according to products (cribs and figures, green, and handicrafts) located in front of Pla de la Seu, Cathedral Avenue. The stallholders offer, as many years ago, all products needed to decorate the house for Christmas.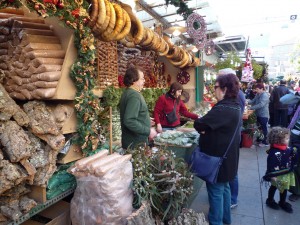 Photo credit: Barcelona.cat / Foter.com / CC BY-ND
This year 2013 is the 227 consecutive Santa Llúcia Fair and the organizers have prepared many activities to accompany this long tradition of Barcelona.
On December 13, the program will include the popular Tio, a Parade, a Puppet show and performances by dancers.
From 6 to 22 December, you can also find a giant Tió.
Moreover, the Association of "Nativity scene" in Barcelona organizes courses where you can learn all about this.
If you are in Barcelona during Christmas and do not know where to go, we recommend you a walk by Santa Llúcia fair, a tradition with a long history of the city.
Photo credit: Ferran Moreno Lanza / Foter.com / CC BY-NC-ND